Adventures in Morocco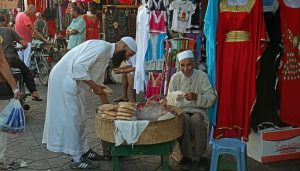 A little while ago, I was in Morocco for Spring Break. I went with three of my friends and before leaving our parents expressed concern about our safety. We went regardless.
Our rule for the trip was to stay together. Our goals was to get through it without getting completely lost, not getting robbed, or worse. As tourists we're targets and we knew that going in. Also, we had no phone service or access to Wi-Fi. None of us knew Arabic, but two of us knew a little bit of French and luckily people would know some English and Spanish.
While there we got a lot of attention. We were all obviously foreigners and all young women. People would comment and stare because we all looked different. Kids would point and ask questions. Guys would stare, comment, and even propose marriage. It was funny and uncomfortable at times; but in the end it was all fine because we stayed together. We used our common sense.
It's scary to be put in a country where you don't speak the language and up until Morocco, I didn't have that problem. I had to work with what I knew: hand motions, body language, and limited French. It was exhausting and frustrating, but it was an amazing experience.
We experienced a different culture. I was able to try their delicious tea, listen to the beautiful call to prayer, and meet some wonderful people. It was well worth the trouble.
If you ever get the chance travel and move beyond the confines of your comfort zone. Don't let fear limit you, but please be smart about it.
Comments? Questions? Contact Jenesis at: Dear_Jenesis@netsafeid.com

Jenesis Gallego is a student at New York University. She is studying Urban Design, Architecture, and Studio Art. Currently, she interns for Technical Consulting & Research, Inc. and Ecosistema Urbano. She is an artist currently focusing on her photography, a writer, a health enthusiast, and an architecture lover. As a dreamer with an interest in personal and community development, she hopes to combine her love of art, health, politics, urban development, and education to achieve her mission of helping individuals and communities worldwide. A native New Yorker, she has studied abroad in London and is now currently in Madrid.

Latest posts by Jenesis Gallego (see all)