Adjusting to Spain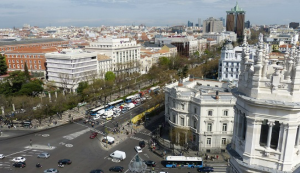 After a period of adjustment, I can honestly say I love living in Madrid.
People are nice, but direct and they expect you to be direct. If you ask for their opinion, whether positive or negative, they will tell you without hesitancy.
People expect you to be proactive. Here's an example: At work, your boss will mention he's going out with someone for lunch. Normally, in the US, that would be the end of it. In Spain, you are expected to invite yourself to join them, too.
I'll be honest, my Spanish is a little bit of an obstacle; which is actually weird because, well, Spanish is my first language. My family is from Ecuador and I grew up in an area dominated by Latinos, so I can speak Spanish. So then, what was wrong? I didn't use it often.  I found my vocabulary limited.
It was tough at first getting conversations started –  what do I talk with Spaniards about beyond how things are in the states? Life here isn't centered on what is going on in America, but what's going on in Spain.
So what did I do? I read the news. I asked questions. I pushed myself to immerse myself in the Spanish language and culture and to ask millions of questions.
I adjusted. I eat Spanish food. I watch Spanish television. I read the Spanish news in Spanish. I use their slang.
It's just what I've been told before: the best way to get to know a city is by getting lost in it. Hence, I explored Madrid so that I could become more familiar with my surroundings. I walk everywhere and anywhere because putting yourself out there is how you learn and grow.
Comments? Questions? Contact Jenesis at: Dear_Jenesis@netsafeid.com

Jenesis Gallego is a student at New York University. She is studying Urban Design, Architecture, and Studio Art. Currently, she interns for Technical Consulting & Research, Inc. and Ecosistema Urbano. She is an artist currently focusing on her photography, a writer, a health enthusiast, and an architecture lover. As a dreamer with an interest in personal and community development, she hopes to combine her love of art, health, politics, urban development, and education to achieve her mission of helping individuals and communities worldwide. A native New Yorker, she has studied abroad in London and is now currently in Madrid.

Latest posts by Jenesis Gallego (see all)